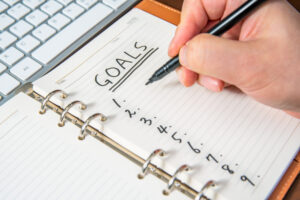 By Terry Westlund, Co-founder of Financial Designs
With the new year, many of you have made or thought about making resolutions. There is probably another sub-set of readers who might have pushed that to the bottom of the proverbial "to-do" list. According to Forbes, studies show less than 25% of people actually stay committed to their resolutions after 30 days, and only 8% accomplish them. Why are resolutions so hard to keep? Many of us have great aspirational goals but aim too high. While this may work initially during those first few weeks of the "new year enthusiasm", overly aggressive goals are hard to maintain. So rather than deciding you are going to completely stop purchasing designer clothing, vacations, dinners out, or other fun indulgences, be realistic as you think about how you want to improve your finances.  Here are a few attainable goals to consider if you are hoping to organize your finances in 2023:
1) Minimize financial risks
Depending on your specific situation, in addition to health insurance, you may want to consider if you have adequate disability, life, and/or long term care coverage:
Disability income insurance shields you from financial disaster if you are unable to work for a long period of time due to sickness or injury. This includes scenarios that would allow you to keep practicing as a medical professional, but not in your preferred specialty. See here for more details on what to look for in a policy.
Life insurance is vital because it can create a secure future for your loved ones if you aren't there to provide for them. However, finding the right policy – or policies – to meet your exact needs can be difficult. Work with a professional to compare the advantages of term vs. permanent policies to arrive at a recommendation that will keep your premiums as low as possible while maximizing any future benefits.
Long-term care insurance helps pay for the cost of assisted living in case your health (or your parents' health) or age requires it. It can protect your assets from being depleted if you require long-term care, and can remove the financial worry from an emotional decision. See more details on this type of coverage here.
Do you want a second opinion on your approach to minimizing financial risk?
2) Reduce tax burdens by reducing taxable income
Reducing taxable income can have a significant impact on what you owe Uncle Sam. Items like HSA and retirement contributions can be used to reduce taxable income. For 1099 providers, the current tax code offers an attractive 20% deduction to those who can successfully keep their taxable income under $364,200… with a phase-out up to $464,200. Work with your tax professional to determine how this might affect your tax strategy. You also can deduct health insurance premiums and business expenses, and you have the flexibility to make significant tax-deductible retirement contributions (sometimes totaling to amounts over $100k) using various accounts like SEP IRAs, Individual 401(k)s, and Defined Benefit Plans. Are you in need of a CPA and/or financial adviser?
3) Monitor your progress towards funding retirement
Work with an adviser that helps you set retirement goals and provides tools to track your progress. These tools should take into consideration not just your retirement funds, but also social security, pension plans and other assets. Additionally, your adviser should be someone who recognizes there is a balance between saving, paying off debt and enjoying life pre-retirement. And you should only partner with a fiduciary… someone who is required to work with your best interest in mind.
4) Establish a "fun fund" for vacations, concert tickets, hobbies, etc
Everyone has an ideal way of how they want to spend their "free" time. Establish a plan to fund those activities while eliminating "buyers remorse". This is something your investment adviser can help with. Remodeling your kitchen or taking that dream vacation should be doable without the guilt.
5) Ensure your assets are adequately protected
Doctors can spend decades working long hours to accumulate wealth, only to become targets for frivolous lawsuits that aren't confined to malpractice issues. Work with an attorney to lower your financial profile, putting barriers between a potential lawsuit and your money.
Here at Financial Designs, we made a resolution three years ago to provide valuable content through our blog and our social media presence. Thanks for being a part of our readership, and let us know if there is a topic you want us to write about by emailing connect@financialdesginsinc.com. Want advice on how to best structure your financial future? Call us or set an appointment for a risk-free consultation. Happy new year!
Have questions? Don't hesitate to call. We are passionate about education at no cost to you.
You can reach us at 888-898-3627
or
Want more updates on hot financial topics? Follow us on Facebook, Twitter and LinkedIn.
This communication is strictly intended for individuals residing in the sates of of AK, AL, AR, AZ, CA, CO, CT, DC, DE, FL, GA, HI, IA, ID, IL, IN, KS, KY, LA, MA, MD, ME, MI, MN, MO, MS, MT, NC, NE, NH, NJ, NM, NV, NY, OH, OK, OR, PA, RI, SC, SD, TN, TX, UT, VA, WA, WI, WV, and WY. No offers may be made or accepted from any resident outside the specific states referenced.
The information being provided is strictly as a courtesy. When you link to any of these web-sites provided herein, Financial Designs, Inc. makes no representation as to the completeness or accuracy of information provided at these sites. Nor is the company liable for any direct or indirect technical or system issues or any consequences arising out of your access to or your use of third-party technologies, sites, information and programs made available through this site.
Financial Designs, Inc.
11225 College Blvd., Suite 300
Overland Park, KS 66210
Toll free: 888-898-3627
Local: 913-451-4747
Fax: 913-451-8191
Contact us today