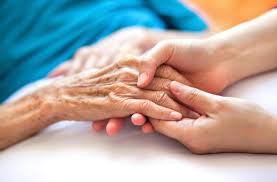 By Noel Roach, Wealth Management Partner
We all know the importance of saving for retirement, but what if during retirement you have a health situation that requires long-term assistance from healthcare professionals? Are you self-insured to cover costs like assisted living or home care? 7 in 10 people turning 65 will need long-term care at some point in their lives1, and 1 in 5 of today's 65 year-olds will need long term care support for more than 5 years at some point in their lives2. See below for options on how to ensure long-term care doesn't deplete your assets.
What does "Long-term care" mean?
Long-term care is defined as "a range in services and supports someone may need to meet their personal care needs."3 This includes: eating, toileting, transferring, bathing, dressing, continence, housework, managing money, taking medication, preparing meals, shopping for groceries/clothes, caring for pets, etc.
How is Long-term care support paid for? Won't Medicare or Medicaid cover the cost?
It's first important to understand how much long-term care can cost annually4: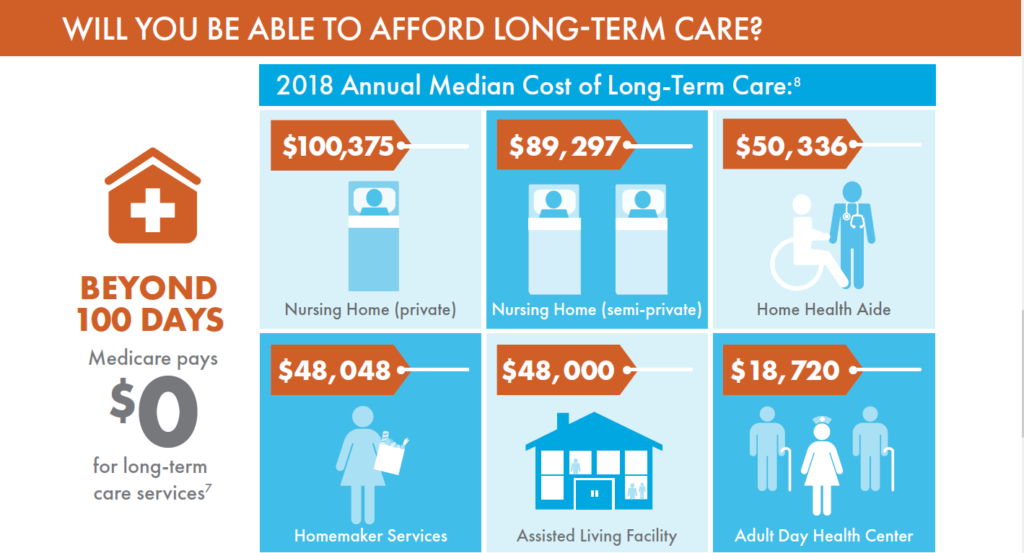 When considering the cost of long-term care, many people think Medicare will cover the expense. Unfortunately, that isn't true. If certain requirements are met, Medicare will cover skilled care for up to 100 days. Once that 100 days is complete, you are responsible for the cost going forward. Medicaid doesn't kick-in until you spend down your assets. Additionally, your facility options will be greatly reduced if Medicaid is used. Other pay options include self-funding or utilizing benefits secured through long-term care (LTC) insurance. Think of LTC insurance like "senior disability". You secure a disability policy in your working years to protect your income should you get injured or sick. You secure a LTC policy later in life to protect your assets during retirement.
So what are my options to fund long-term care needs?
LTC coverage has changed over the years, and more recently alternative strategies have been introduced. Traditionally you could purchase coverage that was designed to be "use it or lose it". Now there are options to combine life insurance with LTC, which many of our clients are choosing over the traditional route. These options also allow you to choose to pay a lump sum up-front or choose to pay over a determined period of time. See more on the pros and cons of the various options below: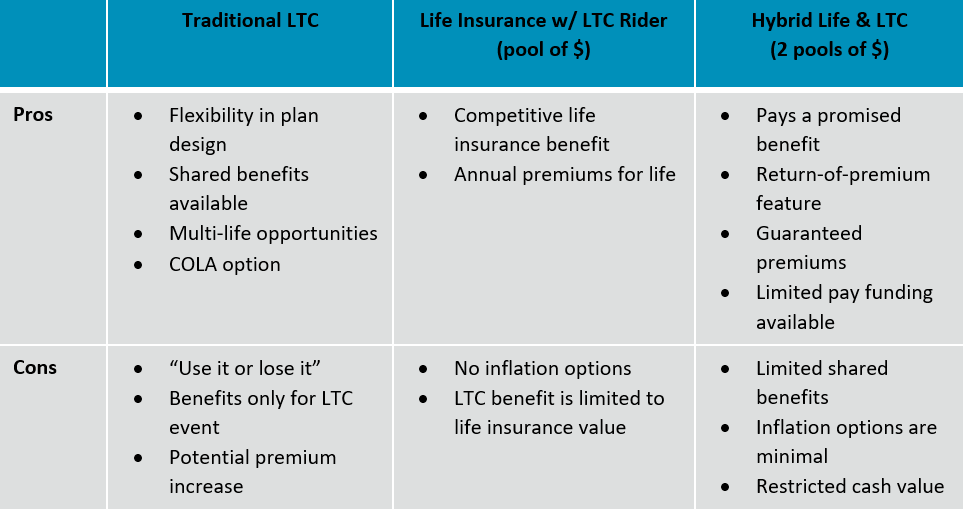 This is great, but how do I determine what's right for me?
Work with your financial adviser. Most importantly, be sure you understand the benefit amount and length of coverage, the cost of living increase options, the ability to share the benefit with a spouse, and if the rates are guaranteed over time (meaning the cost won't increase). Also, be sure you are exploring any discounts available to you. Many times, there are discounts associated with good health and couple/partner scenarios.Lastly, I recommend to start thinking about long-term care funding at some point in your 40s. Whether you decide to secure a policy or self-fund, just be sure to have a sound plan, and share the plan with your family members. This can ensure you eliminate the anxiety associated with healthcare costs as well as keep from depleting your assets.
Have financial questions? You can reach us at 888-898-3627 or make an appointment here: http://www.appointmentcore.com/app/freeslots/nEZUrdH 
Do you have a topic you want to hear about? Email us at connect@financialdesignsinc.com to submit suggestions.
1US Dept. of Health and Human Services 10/10/2017 (longtermcare.acl.gov/the-basics/how-much-care-will-you-need.html)
2Savings Medicare Beneficiaries Need for Health Expenses: Some Couples Could Need as Much as $400,000, up from $370,000 in 2017; Employee Benefit Research Institute; Oct. 8, 2018
3LongTermCare.gov
4Genworth 2018 Cost of Care Survey, Home Care Providers, Adult Day Health Care Facilities, Assisted Living Facilities and Nursing Homes; 10/9/2018