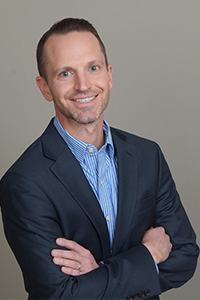 Facts about Ryan
Q. Favorite Sports Play?
A. Salvador Perez's game winning hit in the 2014 AL Wild Card Game. Sadly, I left the game early!
Q. Favorite KC Restaurant?
A. Manny's
Q. Gold or Bitcoin?
A. Bitcoin
Q. Favorite Podcast?
A. Real Vision Daily Briefing
Ryan coordinates with the FDI team to assist physician clients with tax planning and compliance. He has over 15 years of experience serving in a variety of roles across public accounting and corporate finance, including time spent leading as VP/CFO of a transportation company with over 20 employees. Ryan values helping educate clients around tax compliance matters and assisting to deploy tried and true strategies to minimize tax liabilities and build wealth.

"The only two things that scare me are God and the IRS." – Dr. Dre
Ryan earned a Bachelor of Business Administration from Washburn University where he was a varsity baseball letter winner. A 2019 graduate of Leadership Olathe, Ryan has volunteered as a youth mentor in the local school district and served as finance director for his neighborhood's homeowners association. When he is not crunching numbers, Ryan enjoys spending time with his family and staying active at the gym. 
² – Not affiliated with Cambridge and does not offer securities or advisory services.
This communication is strictly intended for individuals residing in the sates of of AK, AL, AR, AZ, CA, CO, CT, DC, DE, FL, GA, HI, IA, ID, IL, IN, KS, KY, LA, MA, MD, ME, MI, MN, MO, MS, MT, NC, NE, NH, NJ, NM, NV, NY, OH, OK, OR, PA, RI, SC, SD, TN, TX, UT, VA, WA, WI, WV, and WY. No offers may be made or accepted from any resident outside the specific states referenced.
The information being provided is strictly as a courtesy. When you link to any of these web-sites provided herein, Financial Designs, Inc. makes no representation as to the completeness or accuracy of information provided at these sites. Nor is the company liable for any direct or indirect technical or system issues or any consequences arising out of your access to or your use of third-party technologies, sites, information and programs made available through this site.
Financial Designs, Inc.
11225 College Blvd., Suite 300
Overland Park, KS 66210
Toll free: 888-898-3627
Local: 913-451-4747
Fax: 913-451-8191
Contact us today