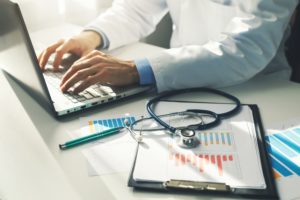 By: Ryan Johnson
For at least the medium term, it appears coronavirus is here to stay. As we wade through what this means for various aspects of our daily lives, many of our clients are finding themselves in a situation where shifts have been cut and therefore income has been reduced. With no clear answer on when healthcare facilities will be operating at "pre-coronavirus" volume, many have questions about how to approach their financial situation. It may be time to become a cash hoarder. Below are 5 tips if you are experiencing a loss in income.
1) Research government programs
By now you have probably already heard about the CARES act. Many of the programs in the CARES act are designed to help supplement a loss in income, but the programs have had many challenges including clarity on the rules and running out of money. However, stay on the look-out for additional funding. Many of these programs are "first come, first serve" so it literally pays to be on top of submitting your paperwork. For a summary on some of these programs and how it relates to supplemental income for independent contractors, see a previous blog post here.
2) Delay big purchases
Cash is king. If you are at risk of having your income reduced and you don't have a healthy emergency savings fund to rely on, stop all big purchases. Typically, we recommend 3-6 months of income saved in an emergency savings account. Given the current environment, it wouldn't hurt to think about saving a little more beyond the 3-6 months.
3) Evaluate your student loans
If you have federal loans, you can delay making a payment until at least this fall with no penalty (and the months you don't make a payment still count towards PSLF). Divert your student loan payments to savings "just in case". Again, cash is king.
If you have private loans, consider refinancing. Even if you just refinanced, it might be a good idea to revisit the options now available. You could get a deal you never fathomed possible until now. Reach out to the top companies like SoFi and CommonBond or use a broker like Doctors Without Quarters (who does not charge a fee for this service).
Also, keep an eye out for possibly loan forgiveness components to future government funded programs. There is discussion about forgiving some student loan debt for medical professionals – particularly those on the front lines.
4) Possibly pause retirement savings contributions in the short-term
If you have completed steps 1-3 above and you still feel you are not adequately managing a loss in income, stop your retirement savings contributions for a few months. Again, cash is king. You can always make retirement contributions later in the year if your situation changes and you feel more confident about your income stream. This is a reasonable strategy in the short term given the current environment.
5) Last resort: withdraw from your retirement savings
Under the CARES act you can withdraw up to $100,000 in 2020, and the 10% early withdrawal penalty is waived. You will owe income tax on the money you take out, but you will have 3 years to pay it. The new rules also allow you to deposit money back into your retirement account as a rollover as long as that transaction is completed in the next 3 year (and you can claim a refund on the income tax paid). However, double check with your plan administrator that the plan allows repayments. Some plans are not set-up to do this and are not required to change their procedures. This strategy should be used sparingly and carefully. Also, you should consider market volatility when you make this decision. Consult your financial adviser and make sure there are no other strategies to consider before you start using your nest egg. Your financial adviser should also be able to model how this will affect your long-term wealth before you make a final decision.
Give us a call – we are happy to help. Our client base stretches across the United States. Even before coronavirus, our model was built to be able to assist our clients over the phone and through online meeting. Although the coronavirus has changed our life in many ways, it hasn't changed how we do business.
You can reach us at 888-898-3627
or
Make An Appointment Here
Want more updates on hot financial topics? Follow us on Facebook, Twitter and LinkedIn.
This communication is strictly intended for individuals residing in the sates of of AK, AL, AR, AZ, CA, CO, CT, DC, DE, FL, GA, HI, IA, ID, IL, IN, KS, KY, LA, MA, MD, ME, MI, MN, MO, MS, MT, NC, NE, NH, NJ, NM, NV, NY, OH, OK, OR, PA, RI, SC, SD, TN, TX, UT, VA, WA, WI, WV, and WY. No offers may be made or accepted from any resident outside the specific states referenced.
The information being provided is strictly as a courtesy. When you link to any of these web-sites provided herein, Financial Designs, Inc. makes no representation as to the completeness or accuracy of information provided at these sites. Nor is the company liable for any direct or indirect technical or system issues or any consequences arising out of your access to or your use of third-party technologies, sites, information and programs made available through this site.
Financial Designs, Inc.
11225 College Blvd., Suite 300
Overland Park, KS 66210
Toll free: 888-898-3627
Local: 913-451-4747
Fax: 913-451-8191
Contact us today