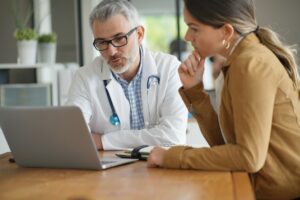 By Noel Roach
For many of us, 2020 hasn't been the most ideal. As we head into the 2nd half of the year, there is more uncertainty ahead. You should be touching base with your financial adviser to make sure you have a plan in place that matches your comfort level as we approach possible volatility due to coronavirus and a big election in November. Below are some of the top topics you should be discussing.
1) Interest Rates
In case you aren't up-to-date, interest rates have hit all-time lows. Consider refinancing your mortgage. As of today*, the average 30-year interest rate is 2.87. Depending on your current rate, refinancing could free-up cash every month. Looking to get more aggressive with paying off your home? A 15-year rate is averaging at 2.35%. You may be able to more quickly pay off your house without drastically increasing your monthly payment. Your financial advisor can help recommend what payment term is best fit to meet your personal long-term financial goals.
Also, interest rates are low for private student loan debt. If you have private student loans, be sure to research rates. Work with your financial advisor to determine if you can pay off your loans over a shorter period. If you have federal loans, you may want to hit "pause" on converting these to private loans. Federal student loan payments have been suspended until 2021 which allows you to skip payments without a penalty. You can choose to save those dollars for the time being or keep paying and have those payments go 100% towards the principal. Also, it's not expected interest rates will go up any time soon, so you probably have time to take advantage of both the grace period AND low private interest rates once the end of the grace period nears.
2) Dollar Cost Averaging (DCA)
During volatile times like these, DCA has the opportunity to shine. By consistently investing the same amount of money on every transaction, DCA ensures you buy more shares at the low and fewer shares at the high. See an example in a previous blog post here.  If you moved investments to cash earlier this year, DCA is a great way to ease back in the market. Talk to your financial advisor about this strategy.
3) Risk Tolerance & Asset Allocation
The tolerance for risk varies person by person. Your financial adviser should be asking questions to help understand what kind of risk you are personally comfortable with to achieve greater returns. Typically, the further you are from needing the money (also known as your "time horizon"), the riskier or more volatile your investment (with the goal of making a higher ROI). Asset allocation means dividing your portfolio across stocks, bonds and cash. Your asset allocation will be largely determined by your risk tolerance and time horizon.
Coronavirus has given us all a recent opportunity to evaluate how we feel about our risk tolerance and asset allocation. Now is the time to discuss with your financial adviser if you still have the right asset allocation going into the last part of 2020. Some people are choosing to "de-risk" their portfolio before the election (with the plan to DCA back in). Some people have side-lined dollars that they hope to use to catch a stock on a low leading into the election. Work with your financial adviser to devise a solid plan for your specific needs and comfort level. Make sure that adviser is also considering how these decisions might affect the ability to meet your short and long term goals.
4) Effective Review
I recommend people meet with their financial adviser every 6 months. Life happens before our eyes, and as life changes, your financial decisions should be re-evaluated. Here are the key components of an effective review: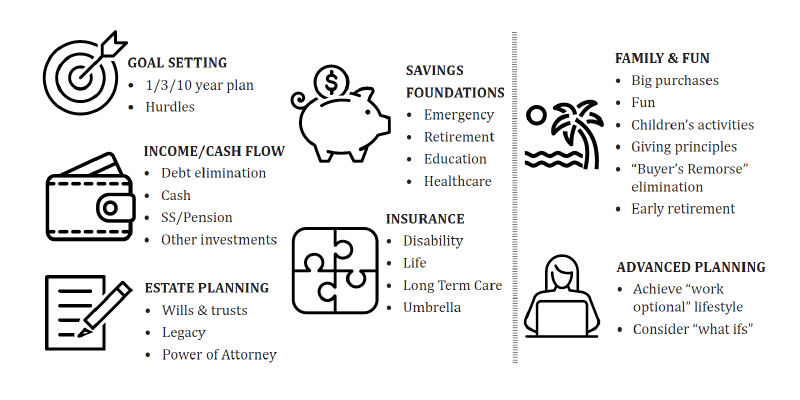 The items on the left are the standard items most investment advisers discuss. The items on the right are what I think make the difference from a good adviser to a great adviser. Once you know you have the basics covered, you should be talking about how you can fund the fun things in life without having "buyers remorse". Put pen to paper on how you are going to fund hobbies, trips, early retirement, etc. Additionally, a great financial adviser will spend time talking about the "what ifs" and plan accordingly. This includes the negative "what ifs" as well as the positive.
Need someone to help address life's financial "what ifs"? I am here to help. At FDI, we never charge for education and second opinions.
You can reach us at 888-898-3627
or
Make an Appointment Here
Want more updates on hot financial topics? Follow us on Facebook, Twitter and LinkedIn.
*As of 9/18/2020; https://www.nerdwallet.com/mortgages/mortgage-rates
This communication is strictly intended for individuals residing in the sates of of AK, AL, AR, AZ, CA, CO, CT, DC, DE, FL, GA, HI, IA, ID, IL, IN, KS, KY, LA, MA, MD, ME, MI, MN, MO, MS, MT, NC, NE, NH, NJ, NM, NV, NY, OH, OK, OR, PA, RI, SC, SD, TN, TX, UT, VA, WA, WI, WV, and WY. No offers may be made or accepted from any resident outside the specific states referenced.
The information being provided is strictly as a courtesy. When you link to any of these web-sites provided herein, Financial Designs, Inc. makes no representation as to the completeness or accuracy of information provided at these sites. Nor is the company liable for any direct or indirect technical or system issues or any consequences arising out of your access to or your use of third-party technologies, sites, information and programs made available through this site.
Financial Designs, Inc.
11225 College Blvd., Suite 300
Overland Park, KS 66210
Toll free: 888-898-3627
Local: 913-451-4747
Fax: 913-451-8191
Contact us today