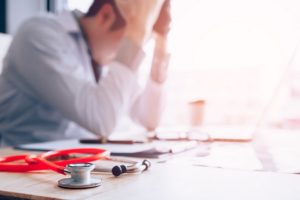 By: Ryan Johnson
First and foremost, thank you. Thank you for being in the profession to help our communities. In a time like this, we are so ever grateful for the medical professionals caring for our family, friends and nation.
We know it's not an overstatement to say the world is changing in front of our eyes. Even a few weeks ago many of us couldn't fathom where we are today, and there are likely more surprises for us as the next weeks and months unfold. In a world of unpredictability where our past rule books no longer apply, our minds and our hearts can feel wildly out of control. Second to the health of the people on this planet, the topic of finances is on everyone's minds. First and foremost, don't panic. As you know panicking doesn't bode well in your line of work, and similarly, panicking doesn't bode well with investment strategies. We have 4 thoughts below to help guide you as you evaluate your specific situation.
1) Pause and evaluate your plan
According to CNBC, "While financial experts expect the downturn to continue in the near term, most agreed that markets will recover over the next few months…. the underlying economic indicators in the U.S. and China are strong, and recent events are likely to 'delay but not derail' that growth."* While we don't recommend pulling out of the market as a knee jerk reaction, it is a good time to determine if your portfolio reflects your risk tolerance (note: if your risk tolerance feels off, wait until things recover to adjust… don't lock in a deep loss now). You should also be reviewing if you are well diversified. A financial adviser can help you with both these things, and a good financial adviser can help you consider several different angles as you assess your investment strategy. Also, make sure your financial adviser is a fiduciary. Once you are comfortable with your long-term plan, don't drive yourself crazy by checking the balance daily (or for some of you, hourly). Deep breaths. Keep in mind your long-term goals and where your long-term investments will be when this is 2 years behind us. Need an extra push of reassurance? Currently we have very few people calling us to move long-term investment dollars into cash. The majority of the calls we are getting are clients trying to figure out how to make this downturn an advantage. More on that later.
2) Ensure you have emergency savings
Cash is king in the short term. First, ensure you have 3-6 months of salary saved for emergencies. Do NOT use this cash to invest in the stock market hoping you can double it. If you don't have emergency savings, this is a good time to prioritize that. Working extra shifts? Use the extra income to quickly build-up emergency cash. Additionally, if the government issues some kind of check to help Americans through this unprecedented journey, consider using these funds to help build your savings. Again, don't put your emergency money into the stock market.
3) Evaluate your student loans
In this wild time where investments are showing extreme volatility, the private refinancing rates are at record lows. Even if you just refinanced, it might be a good idea to revisit the options now available. You could get a deal you never fathomed possible until now. Reach out to the top companies like SoFi and CommonBond or use a broker like Doctors Without Quarters (who does not charge a fee for this service).
4) Do NOT try to become financially independent by timing market swings
We get it. It's tempting when the market dives to put all your assets on the line in hopes of a profound gain. Don't do it. It's not worth the catastrophe that could ensue. Explaining to your spouse you took out a second mortgage, invested in the stock market, and lost it all, will not bode well. Alternatively, it IS a good time for young investors to get in the market if they haven't already. And it's a great time to consider dollar cost averaging. Sound fancy? It's not that complicated. Ask your financial adviser to explain how you might implement this strategy to eliminate some of the angst that comes with up and down markets.
We are in the midst of an emotional roller-coaster. Have candid conversations with your spouse, loved ones and financial adviser before making any big investment decisions. Give us a call – we are happy to help. Our client base stretches across the United States. Even before coronavirus, our model was built to be able to assist our clients over the phone and through online meetings. Although the coronavirus has changed our life in many ways, it hasn't changed how we do business.
You can reach us at 888-898-3627
or
Want more updates on hot financial topics? Follow us on Facebook, Twitter and LinkedIn.
* https://www.cnbc.com/2020/03/16/investing-advice-how-to-keep-money-safe-amid-coronavirus-market-panic.html
This communication is strictly intended for individuals residing in the sates of of AK, AL, AR, AZ, CA, CO, CT, DC, DE, FL, GA, HI, IA, ID, IL, IN, KS, KY, LA, MA, MD, ME, MI, MN, MO, MS, MT, NC, NE, NH, NJ, NM, NV, NY, OH, OK, OR, PA, RI, SC, SD, TN, TX, UT, VA, WA, WI, WV, and WY. No offers may be made or accepted from any resident outside the specific states referenced.
The information being provided is strictly as a courtesy. When you link to any of these web-sites provided herein, Financial Designs, Inc. makes no representation as to the completeness or accuracy of information provided at these sites. Nor is the company liable for any direct or indirect technical or system issues or any consequences arising out of your access to or your use of third-party technologies, sites, information and programs made available through this site.
Financial Designs, Inc.
11225 College Blvd., Suite 300
Overland Park, KS 66210
Toll free: 888-898-3627
Local: 913-451-4747
Fax: 913-451-8191
Contact us today