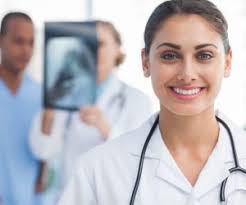 By Katie Bennett, ChFC®
Congrats! After years of hard work, little sleep and lots of determination, you have finished medical school and residency, and your paycheck finally reflects a physician's salary. The jump from the average residency pay of $61,200 to a full-time physician salary is typically large. The change can be overwhelming to determine what do with the income surplus. See below for tips on how to lay a firm financial foundation and avoid potentially damaging mistakes.
Treat Yourself
Surprised we started with this piece of advice? You've worked hard to get to this phase in your life. You owe yourself a treat. However, before you go as far as a new sports car or an extravagant trip, read the below to ensure you have yourself appropriately set-up for financial success.
Eliminate Financial Risk
Healthcare costs are at an all time high. Although you may be able to self-treat many of your own health challenges, the unexpected can still wreak havoc on your finances. To financially mitigate medical surprises, secure adequate insurance coverage.
Health Insurance: Evaluate high vs. low deductibles and the use of HSA plans. If you are an independent contractor, work with a broker that can help you choose a plan that eliminates unnecessary costs.
Disability Insurance: Your income is your most valuable asset. Just over 1 in 4 of today's 20 year-olds will become disabled before they retire*. Keep in mind accidents are not usually the culprit. According to the Council for Disability Awareness, back injuries, cancer, heart disease and other illness cause the majority of long-term absences. As you research coverage, be sure to include an "own occupation" rider. See here for more details on what to look for in a policy.
Life Insurance: You may want a plan to provide for loved ones if you aren't there to provide for them. However, finding the right policy – or policies – to meet your exact needs can be difficult. Work with a broker to compare the advantages of term vs. permanent policies to keep your premiums as low as possible while maximizing any future benefits. You can all see more details about various types of life insurance here.
Address Student Loans
Hands down, the question we get most often from new attendings is how to address student loan debt. Spoiler alert: yes, you want to eliminate debt as quickly as possible. It's likely you have some whopping loans to pay off. Of course, you should research PSLF. However, if you don't qualify for this kind of loan forgiveness (not many of our clients do), be sure to explore consolidating and refinancing. Acquire a few quotes to ensure you get a competitive offer. The obvious places like CommonBond, SoFi and Sallie Mae are a good start. Just like a mortgage, we recommend choosing the shortest term possible… the savings on interest can be staggering. Lastly, when possible, make extra payments. When that unexpected bonus comes along, treat yourself, but also seriously consider putting a significant portion of those earnings towards your debt reduction.
Start Saving for Retirement Now
We get it – retirement seems like a long way off… At the bare minimum, try to find a way to contribute enough to at least receive any kind of institutional match available to you. If you are an independent contractor, you can save up to $58,000** a year in a retirement account ($19,500 for a W2 employee). This may seem aggressive, but the positive effect on your tax bill might surprise you (not to mention the jump start on saving for your Golden Years). Work with a financial adviser who can show you hypotheticals to help determine what the right saving strategy is for your specific situation. Your adviser (who should be a fiduciary) should also be able to account for your current debt and incorporate that into your plan as well. Likely you will find it will be most financially efficient if you have a balance that includes both debt pay-off and tax-deductible retirement contributions.
Plan for the Worst – But Also Plan for Fun
You may have heard the rule of thumb to have enough savings to cover 3-6 months salary should an emergency arise. We couldn't agree more. As Joan Rivers reminds us, "In life the only thing you can expect is the unexpected". This savings account could also be used to fund little surprises like your home air conditioner going kaput or an unexpected car repair.
What people don't talk about as often is funding the fun too. You deserve to enjoy your hard-earned paychecks both pre and post retirement. Make monthly contributions to a "vacation" fund and/or a "3-5 year" fund that allows you to do the things you love without having buyer's remorse. This could be anything from a new car to a trip to Bora Bora to a remodeled kitchen.
Don't Underestimate Ways to Reduce What You Owe Uncle Sam
For W2 and 1099 physicians, your HSA and retirement contributions are tax deductible. Make sure you are maximizing this benefit.
If you are a 1099 physician (independent contractor), you can also deduct health insurance premiums, business expenses, and you may be eligible to utilize the QBI deduction which is literally saving many physicians thousands more in taxes. Work with a tax professional to make sure you aren't paying a dime more than you have to.
Lastly, don't get overwhelmed. As Dave Ramsey says, "Nothing happens without focus. Don't try to do everything at once. Take it one step at a time". Have questions? Don't hesitate to reach-out for a discussion on how to tackle your specific financial situation. We are here to educate and remove any financial anxiety.
* http://disabilitycanhappen.org/overview/
** Independent contractors over the age of 50 can contribute up to $64,500 annually; W2 employees over the age of 50 can contribute up to $25,500 annually (this reflects 2021 limits)