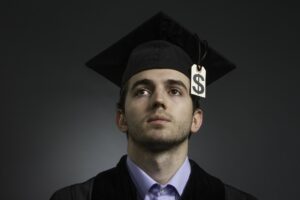 With interest rates on the rise, while federal loans benefit from continued forbearance, many are contemplating the best time to refinance. This year saw yet another extension of the forbearance period as President Biden's forgiveness plan works its way through the court system. Loans are set to enter payment status on September 1st, pending the Supreme Court's final decision on this forgiveness package. With so much uncertainty in today's environment, it's hard to know what to do. See below for a few things to consider regarding your federal student loans in 2023.
Hold on to federal student loans for now
When the COVID pandemic initially began, many Americans' cash flow was greatly affected. One of the ways the government responded was to suspend federal student loan payments (aka forbearance) AND interest accumulation associated with these loans. Therefore, one could pause making payments altogether OR make payments to eliminate all previously accrued interest and ultimately begin tackling the principal balance. The timeframe for this forbearance has been extended multiple times, but as it stands, loans are set to re-enter payment status on September 1, 2023. The administration has continued to emphasize the fact that this will be the final extension…but we have heard that same message before. Thus, our recommendation is to hold your federal loans until payments officially resume.
Pay Attention to Rising Interest Rates
At this juncture, we are well aware of the rapid rise in interest rates as the Federal Reserve continues to push rates higher in an effort to curb inflation. These aggressive increases have made it harder to refinance federal loans at a competitive fixed interest rate. What was once a very clear decision to privatize these loans in favor of a more competitive interest rate, is no longer an easy decision. This will likely remain the case until the Federal Reserve begins the slow process of decreasing rates at some unknown point in the future.
Student Loan Forgiveness
President Biden attempted to "make good" on his campaign promise to forgive $10,000 in federal student loan debt, but his efforts have hit a significant roadblock. The decision is now left in the hands of the Supreme Court which is set to hear the case later this year. It is unknown how this decision will be handled by the Supremes, but the conservative nature of this court leads many to believe that this piece of legislation will be ruled unconstitutional.
Refinance, eventually
Pay attention to when the forbearance period officially expires. At that time, be prepared to refinance with a private lender IF you are able to secure a more competitive interest rate. Work with your financial advisor to determine what terms best suit your specific situation. It's essential to balance eliminating debt AND saving for retirement (compounding matters!). A good financial advisor can help break down what your long-term financial picture might look like based on the decisions you make now.
Of course, if you are seeking PSLF, don't refinance (and do not make payments during forbearance). Keep your federal loans and know this grace period COUNTS towards your 120 qualifying payments.
Have questions? Don't hesitate to call. We are passionate about education at no cost to you.
You can reach us at 888-898-3627
or
Want more updates on hot financial topics? Follow us on Facebook, Twitter and LinkedIn.
This communication is strictly intended for individuals residing in the sates of of AK, AL, AR, AZ, CA, CO, CT, DC, DE, FL, GA, HI, IA, ID, IL, IN, KS, KY, LA, MA, MD, ME, MI, MN, MO, MS, MT, NC, NE, NH, NJ, NM, NV, NY, OH, OK, OR, PA, RI, SC, SD, TN, TX, UT, VA, WA, WI, WV, and WY. No offers may be made or accepted from any resident outside the specific states referenced.
The information being provided is strictly as a courtesy. When you link to any of these web-sites provided herein, Financial Designs, Inc. makes no representation as to the completeness or accuracy of information provided at these sites. Nor is the company liable for any direct or indirect technical or system issues or any consequences arising out of your access to or your use of third-party technologies, sites, information and programs made available through this site.
Financial Designs, Inc.
11225 College Blvd., Suite 300
Overland Park, KS 66210
Toll free: 888-898-3627
Local: 913-451-4747
Fax: 913-451-8191
Contact us today